The Quartet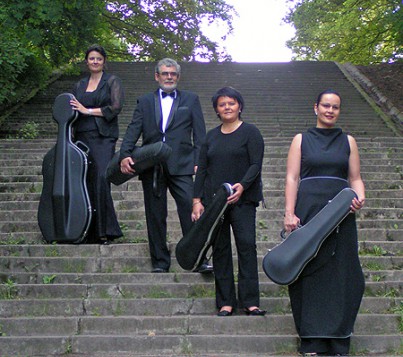 The quartet was established in 1995. It consists of musicians associated with the Toruń Symphony Orchestra. The Quartet performs at many prestigious concerts and social events in Poland and abroad. The repertoire includes pieces representing different styles and periods, ranging from baroque to contemporary chamber and popular music.
The Quartet took part in the concert series of 'Toruń Meetings under the Stars' in the Artus Court in Toruń, and attended numerous seminars and scientific sessions organized by the Nicolaus Copernicus University in Toruń. In 1997 the quartet participated in the documentary film 'Toruń my love'. The musicians performed many times at the International Festival Music and Architecture and were a guest in 'Lublin September Music'. In May 2003 the quartet was on tour in Germany and took part in Oldenburg Ratsmusik Festival.
The quartet constantly collaborates with the Chopin Center in Szafarnia. It is invited to concerts organized by the Pomeranian Dukes' Castle in Szczecin and to music meetings in the 'Kołobrzeg Music Autumn' series.
The repertoire:
works of popular and film music: S. Joplin, I. Berlin, H. Mancini, G. Gerschwin, L. Anderson, E. K. Ellington, The Beatles, E. Presley, H. Wars;
works of classical music - J. Haydn, W.A. Mozart, A. Dvorak, L. van Beethoven, P. Tchaikovsky, F. Chopin, S. Moniuszko, G. Bacewicz, A. Piazzola, N. Skalkotas.
Members:
Mariola Majrowska - I violin
Bernadetta Chmielecka-Larsen - II violin
Krzysztof Blek - viola
Beata Wiącek-Felczykowska - cello