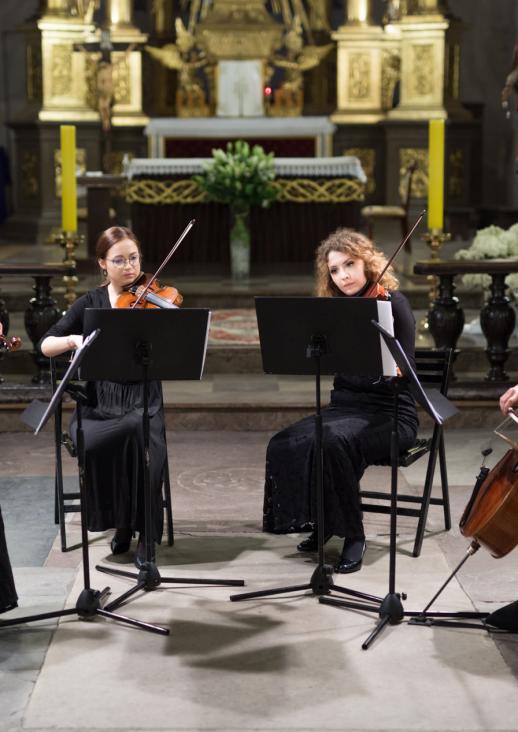 A concert to commemorate the 100th anniversary of Pope John Paul II birthday
Concert
Nova Music and Architecture
Location
Church of the Assumption of the Blessed Virgin Mary
Entrance
Admission free - free tickets*
The concert takes place as part of the 24th International Festival "Nova Muzyka and Architecture" - Toruń / Kuyavian-Pomeranian 2020.
Artists:
Monika Skruszewicz - I violin
Emilia Dagil  - II violin
Anna Morawska - viola
Klaudia Marzec - cello
Aneta Derkowska - introduction
Programme:
A. Mozart - Eine Kleine Nachtmusik
A. Vivaldi - Spring, 1st movement
A. Vivaldi - Winter, 2nd movement
J. Pachelbel - Canon in D major
S. Bach - Air on the G string
J. Haydn - String quartet No. 5 op. 33, 1st movement
F. Chopin - Grande valse brillante in E-flat major, Op. 18,
S. Bach - Largo
Gabarain - Barka
C. Franck - Panis angelicus
O. Resphigi - Ancient Airs and Dancers
F. Haendel - Largo from opera Xerxes
G. Caccini - Ave Maria
Pope John Paul II wrote that "art is a testimony to the mysterious impulse that leads from the heart of one person to another", that "it becomes a key that opens the heart to the mystery of another person", or it can be "the path that leads to God".
There are many such paths that lead to another person and to God. There are many musical works that can help in this search. On the path of musical excursions we can find well-known and popular compositions, including Aria on G-string from Suite in D major BWV 1068 and Largo from Concerto for two violins BWV 1043 by Johann Sebastian Bach, as well as Canon in D major by Johann Pachelbel and the famous Largo from George Friedrich Händel's opera Xerxes. There are also Antonio Vivaldi's The Four Seasons - the famous concertos of the 'red-haired priest', with sonnets written by Vivaldi. Their lyrical sonnets are followed by lively, brisk and joyful music in which the echoes of signing birds, murmur of a brook or ominous thunder can be heard. The 'musical jewels' of classicism include Wolfgang Amadeus Mozart's Serenade Eine Kleine Nachtmusik and Joseph Haydn's String Quartet in G major Op. 33 No. 5, and romanticism – Grande Valse Brillante in E flat major Op. 18 by Frederic Chopin. The papal concert could not fall short of the works that the Pope particularly loved, such as: Gulio Caccini's Ave Maria, Cesar Franck's Panis Angelicus and Cesareo Gabarain's Lord, You Have Come to the Lakeshore. Music was very close to John Paul II and let us succumb to it, remembering that "a world without art runs the risk of being a world without love".
Aneta Derkowska, PhD
*Free tickets can be picked up at the CKK Jordanki's box office.
---
There is no intermission.
The event will take place in accordance with current recommendations and guidelines.
Please read the rules and comply with the GUIDELINES FOR THE CONCERT PARTICIPANTS.
IN CONNECTION WITH THE ONGOING COVID-19 PANDEMIA and completing the statement to be given to 
you by staff on the day of the concert.