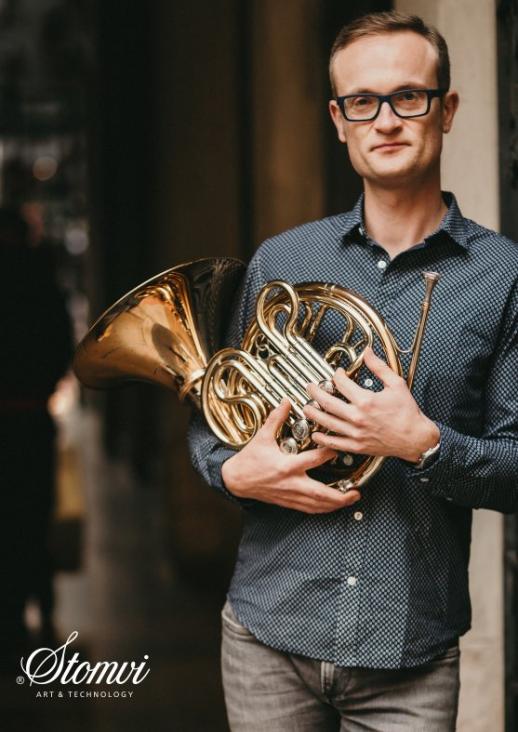 Evening with Beethoven
Concert
Viva Beethoven!
Broadcast online
Concert commemorates deceased on 14th November 2020 French horn player of the Toruń Symphony Orchestra - Łukasz Tur.
Artists:
Michał Szczerba - french horn
Toruń Symphony Orchestra
Dainius Pavilionis (Lithuania) - conductor
Karolina Smolarek-Szynal - introduction
Programme:
W.A. Mozart - II Koncert na waltornię i orkiestrę Es-dur KV 417
L. van Beethoven - II Symfonia D-dur op. 36
---
The event will take place as part of the Viva Beethoven! - the 250th anniversary of the composer's birth project.
---
Concert online will be streamed on our YouTube channel on 29th November at 5pm. Concert will be available to watch for 24 hours.
---
Michał Szczerba - He was born in 1982. In 2007 he graduated from Stanisław Moniuszko Academy of Music in Gdańsk where he studied horn performance in the class of professor Edward Daniecki. He also attended masterclasses with well renowned artists such as Radovan Vlatković and Frøydis Ree Wekre. During his final year as a student he won the position of principal horn in Polish Baltic Philharmonic which he occupies until this day.
Michał is an accomplished soloist, as he performed with several philharmonic and chamber orchestras including Pomeranian Philharmonic in Bydgoszcz, Polish Baltic Philharmonic in Gdańsk, Polish Chamber Philharmonic and Royal Band of the Belgian Guides. He also gave a number of solo recitals during many different festivals across Poland.
His career as a chamber musician is a very active one. In 2004 he cofounded the ensemble Hevelius Brass. Along with his colleagues from the quintet he gave almost two hundred performances in numerous European countries until the dissolution of the group in 2014. In the same year he became one of the founders of Hornet Quartet, a horn ensemble consisting of principal horns from leading polish orchestras. With that group he received the Silver Medal at the Svirel competition in Slovenia and won The Horn Quartet Competition organized by The International Horn Society in Natal, Brazil.
Aside from being the principal horn of Polish Baltic Philharmonic he cooperates with almost all leading polish orchestras and also with Malaysian Philharmonic Orchestra.
He was the finalist and laureate of the Edwin Golnik Horn Competition 2006 organized in Łódź, Poland. His recordings consist of two solo, five chamber and several dozen orchestral CD's. In 2016 he became professor of horn at the Stanisław Moniuszko Academy of Music. Michał is a resident artist of Corno Brass Music Festival, where he hosts regular master classes.