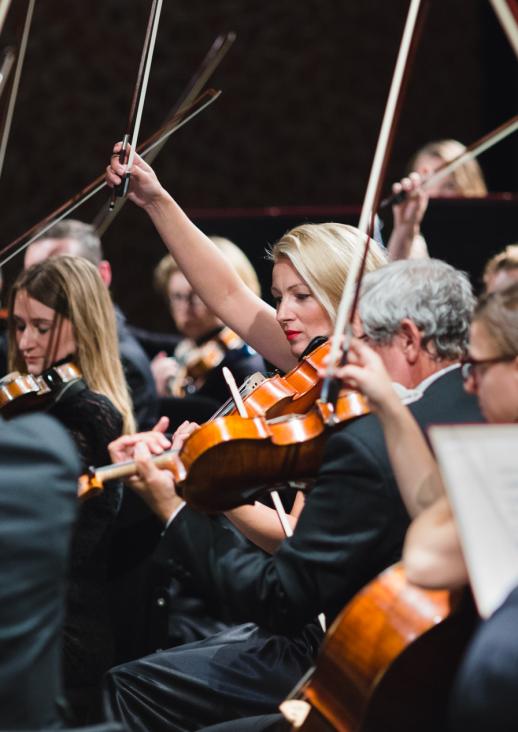 Nordic ballade & Bizet's pearls
Concert
Dyrygent - rezydent
Localization
Concert Hall of CKK Jordanki
The concert takes place as part of the 24th International Festival "Nova Muzyka and Architecture" - Toruń / Kuyavian-Pomeranian 2020.
Toruń Symphony Orchestra
Wojciech Pławner – assistant conductor
Dainius Pavilionis – conductor
Urszula Urzędowska - introduction
Programme:
E. Grieg - Peer Gynt suite No. 1, Op. 46
E.Grieg - Peer Gynt suite No. 2, Op. 55
G. Bizet - Carmen suite No. 1 and No. 2
---
The concert co-organised and co-financed under the Institute of Music and Dance 'Conductor – resident' programme
---
Spanish music is captivating, fiery and fascinating, which is why it returns like a boomerang in various historical periods, becoming an inspiration for many composers from Europe and overseas.
Orchestral Suite No.1 from the opera 'Carmen' is a musical emblem of Bizet's entire opera - a work outstanding in every respect, but one which critics did not acclaim at first. One of the critics wrote the following words about the plot: "What kind of play is this? A man meets a woman he likes (Act I). They love each other (Act II). She does not love him (Act III). He kills her (Act IV). A real play should feature surprises, misunderstandings, peripety - this is what theatre is all about!" All of the opera's main themes resound in the Orchestral Suite No. 1, which is all glistening in the Southern sunlight in the Prelude, as well as the theme of the corrida and the toreador song. What else could we add? - when everything "shines with perfection".
In Norwegian tradition, Ibsen's titular character Peer Gynt is an archer who spends his life in the mountains. There he hunts for bears and fights various apparitions: ghosts, witches, trolls and other monsters. He leads a troubled life, has many adventures, often fantasizes and makes up stories. Peer Gynt - like a typical romantic hero - travels a lot and looks for the meaning of life. Eventually, he returns to his Solvejga, who is still waiting for him, despite all the harms she has suffered by being abandoned.
Edward Grieg 'musicalised' Ibsen's drama by writing twenty-six pieces, of which he chose eight most impressive ones, and then put them together in two suites.
Thus, both parts of this concert, the Spanish and the Scandinavian, will resound with love-themed music, and love, as Octavio Paz wrote: "is a test that ennobles all of us, the happy and the unhappy alike".
Aneta Derkowska, PhD
---
There is no intermission.
The event will take place in accordance with current recommendations and guidelines.
Please read the rules and comply with the GUIDELINES FOR THE CONCERT PARTICIPANTS.
IN CONNECTION WITH THE ONGOING COVID-19 PANDEMIA and completing the statement to be given to 
you by staff on the day of the concert.