The String Quartet TOS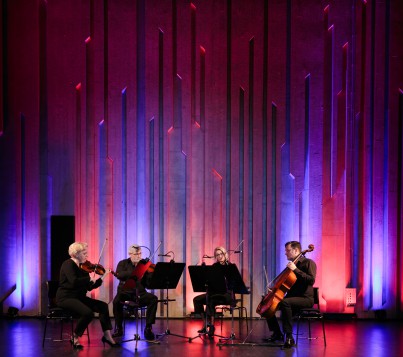 The String Quartet was formed at the initiative of the leading musicians of Toruń Symphony Orchestra in 2004 and it is composed of :
Izabela Bogusz – I violin (concertmaster TOS),
Grzegorz Bogusz – II violin,
Marta Wroniszewska – viola,
Karol Wroniszewski – cello (concertmaster TOS).
The first official concert was held in 2005 in the Artus Court and it was enthusiastically received by the audience and critics. The cooperation between the musicians resulted in successive performances and recording of the album "Romantically", which was a collection of the most famous and popular miniatures . Quartet's repertoire is very rich and constantly expanded. It includes works by composers of different eras from Baroque to contemporary times.
Programmes contain the works of the world chamber literature, and contemporary Polish music but the musicians are particularly pleased to present a number of arrangements of popular and film music. The Quartet performs regularly and participates in international festivals such as: International Festival Music and Architecture, Music in the Cathedral in Kołobrzeg, International Organ Festival in Pelpin, Festival Gaude Mater in Częstochowa," European Artistic Summer in Bydgoszcz, Thursday Evenings in Sopot , Chamber Evenings in Kielce, Music in the Light of the Moon in Lubostroń and festivals in Puławy, Chełmno, Nakło nad Notecią, Koronowo and Ostromecko.
The String Quartet implementing their own artistic plans by cooperating with soloists (pianists - T. Gumiela, A. Mozgiel, P. Wakarecy , harpsichordists - Natalia Bartyzel, Aneta Czuraj, M. Hoga, Katarzyna Kaminska , Bartłomiej Wezner, Dorota Zimna, Gedymin Grubba (organs ), M. Gołębiowski (clarinet), and ensembles - Quartor Europe. Since autumn 2009 the musicians also collaborate with bassist and director of the festival "Probaltica" - Henryk Giza, contributing to the Multicamerata ensemble. Together they toured the country and abroad: Germany, the Netherlands, France, Sweden, Estonia, Scotland, England, Slovenia. They performed with: I. Shoeps, A. Sincovec, W. Waleczek and Gotlands Blasarkvintett .They participated in the projects The Eagle and Chopin 2010 under the patronage of the Minister of Culture and National Heritage and collaborated with composers: M. Cynk - Mikołajewska, P. Moss, Peter van Tour.
Until now, the String Quartet played hundreds of concerts, promoting Kuyavian – Pomeranian Viovodeship and Toruń Symphony Orchestra.