Karol Lipiński's compositions - Program "Musical Traces" 2018
As part of the "Musical Traces" programme of the Ministry of Culture and National Heritage, the Artus Court Cultural Centre, in partnership with the Toruń Symphony Orchestra and University of Nicolaus Copernicus, has published the musical scores of four works, hitherto unavailable in print, by the outstanding Polish violinist and composer Karol Lipiński: Fantasy and variations op. 33 based on motifs from the opera 'Krakowiacy i górale' by J. Stefani and three Polonaises op. 9: No. 1 in A major, No. 2 in E minor, No. 3 in D major. The editorial team working on the scores included such eminent Polish violinists as Professor Konstanty Andrzej Kulka, Professor Andrzej Wróbel (also known as a foremost propagator of Polish music) and Piotr Wróbel. The publication will be available free of charge in both physical and electronic versions.
Karol Lipiński was one of the most outstanding violin virtuosos of the first half of the 19th century on a par with Niccolò Paganini, who was his friend. Strangely, however, his music sank into oblivion, despite the fact that he is known in the music circles as "Poland's Paganini". Many critics believe that Lipiński performer better than his Italian counterpart. Works for violin by Karol Lipiński are a model example of nineteenth-century Polish Romantic music composed for violin virtuosos.
Chopin's Polonaises are well known and performed all over the world, Wieniawski's Polonaises and other virtuoso violin works are also internationally renowned, but Lipiński's work remains completely unknown outside Poland. Even so, even in Poland performances and recordings of his compositions are a rarity, which is mainly due to the lack of publications presenting his works. Until now, one could only rely on the scores published by Lipiński himself in the 19th century, which could only be found on the Internet or in the national libraries of Paris, Vienna or Berlin. The National Library in Warsaw holds only a fraction of Lipiński's works and, as it happens, parts of a single piece of his music can be found in library collections of different countries.
The scores published by these two cultural institutions of the city of Toruń are addressed to students and graduates of music schools, to all violinists in Poland and abroad. These musical pieces present hitherto unknown musical material of supreme quality and now become available to all musicians, in particular to violinists and accompanying pianists.
It is worth mentioning that the works included in the publlication will form part of the mandatory programme of the Karol Lipiński International Violin Competition in Toruń, whose fifth edition is planned for 2019. All aspiring young violin virtuosos, their teachers and music lovers will be able to access these materials and discover the unique character of these compositions, which will make it possible for Lipiński's music to become widely known and present on stages around the world.
The music publishing house includes the following works:
K. Lipiński – Polonez A-dur op. 9 nr 1
K. Lipiński – Polonez e-moll op.9 nr 2
K. Lipiński – Polonez D-dur op. 9 nr 3
K. Lipiński - Fantazja i wariacje op. 33 na motywach z opery Krakowiacy i górale J. Stefaniego
The authors of the publication were:: Konstanty Andrzej Kulka, Andrzej Wróbel and Piotr Wróbel.
Co-financed by the Minister of Culture and National Heritage from the Culture Promotion Fund as part of the "Musical trace" program implemented by the Institute of Music and Dance.
Publisher: Artus Court Cultural Center
Partner: Toruń Symphony Orchestra
Co-financed by the Municipality of Toruń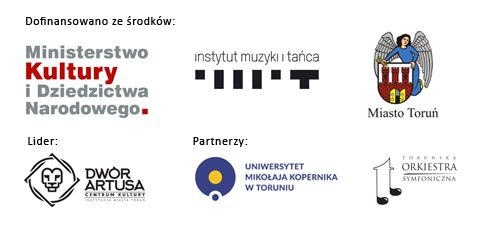 The file can be downloaded here: