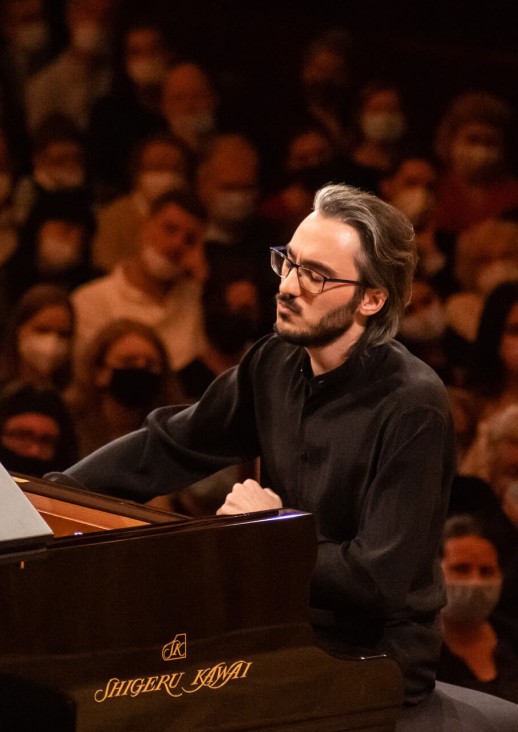 Alexander Gadjiev - Winner of the 2nd Prize in the 18th International Fryderyk Chopin Piano Competition
Location
Concert Hall CKK Jordanki
Artists:
Alexander Gadjiev (Italy/Slovenia) - fortepian
Winner of the 2nd Prize in the 18th International Fryderyk Chopin Piano Competition.
Toruń Symphony Orchestra
Adam Banaszak − conductor
Karol Furtak - introduction
W programie:
A. Falenta – Hommage à Serocki (premiere)
F. Chopin – Piano concerto No. 2 in F minor Op. 21
W. Lutosławski – Little Suite for Orchestra
H. M. Górecki – Three Pieces in Old Style
H. Czyż – Canzona di barocco
Alexander Gadjiev - born on 23 December 1994. After studying for more than a decade with his father Siavush Gadjiev, he then studied at the Mozarteum under the guidance of Pavel Gililov and is now completing his Konzertexamen studies at the Hanns Eisler Hochschule in Berlin under Eldar Nebolsin. A BBC New Generation Artist 2019–22, he has won first prize in the 9th International Piano Competition in Hamamatsu, the Monte-Carlo Piano Masters in 2018, and the Sydney International Piano Competition in 2021. He has worked with symphony orchestras in Monte Carlo, Tokyo, Nagoya, Kyoto, Prague, Katowice (NOSPR) and elsewhere. His debut album, Literary Fantasies, featuring pieces by Liszt and Schumann, was released in 2018.
Adam Banaszak - is one of the most active conductors of the young generation. He specializes in opera, operetta, vocal-instrumental music and conducting ballet performances. He works for Wrocław Opera, but has also conducted performances at Kraków Opera, the Silesian Opera in Bytom and the Podlaska Opera and Orchestra in Białystok. He has conducted such performances as: Eugene Onegin by P. Tchaikovsky, Faust by Ch. Gounod, G. Puccini's Madame Butterfly, Mascagni's Cavalleria rusticana, R. Leoncavallo's Pagliacci, Halka by Moniuszko, La Traviata by G. Verdi, Carmen by G. Bizet, Candide by L. Bernstein, Die Fledermaus by J. Strauss, The Gipsy Princess by I. Kalman. He conducted premiere performances of operas by Paweł Mykietyn (The Magic Mountain) and Zygmunt Krauze (Yemaya – Queen of the Seas). He has performed at festivals: Warsaw Autumn and Sacrum Profanum. He has conducted philharmonic repertoire concerts in: Bydgoszcz, Częstochowa, Jelenia Góra, Kalisz, Koszalin, Łódź, Opole, Płock, Poznań, Szczecin, Wałbrzych, Zamość. He has conducted the Sinfonia Iuventus Orchestra and recorded with the Polish Radio Orchestra and Beethoven Academy Orchestra. His performances and concerts have been broadcast by radio and television (TVP Kultura, TVP Polonia, Polish Television Channel 2, Polish Radio Channel 2, Rundfunk Berlin Brandenburg and many others). He holds a doctorate in conducting and is a lecturer at the Vocal Department of the Academy of Music in Wrocław. Since the season of 2020/2021 he has been the first guest conductor of Toruń Symphony Orchestra.
---
There is no intermission in the concert.
The event will take place in accordance with current recommendations and guidelines.
Please read the rules and comply with the GUIDELINES FOR THE CONCERT PARTICIPANTS. IN CONNECTION WITH THE ONGOING COVID-19 PANDEMIA and completing the statement to be given to you by staff on the day of the concert.
Related events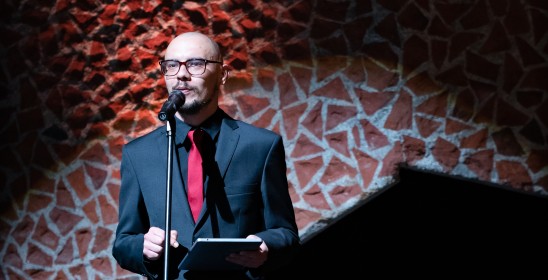 Location
Sala Koncertowa CKK Jordanki