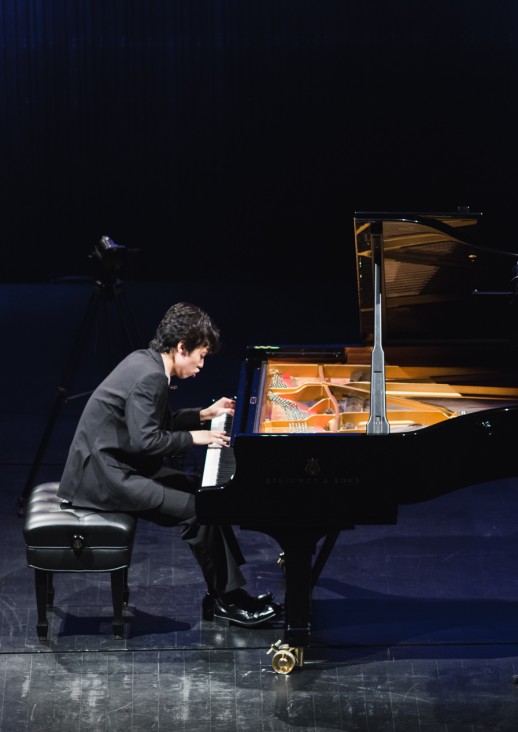 Asian perfection #1
Concert
Nova Music and Architecture
Kujawy + Pomorze – promotion of the economic potential of the region – 2nd
Concert of the Winners of the CMS - Artlab Competition
Artists:
Yoon Seo Hee - fortepian
L. van Beethoven - Piano Sonata No. 23 in F minor, "Appassionata", Op. 57, 1st mov.
Kim Ye Eun - fortepian
A. Ginastera - Danzas Argentinas Op.2
Kim Yoonji - mezzo sopran
W. A. Mozart - Vado! Ma dove?
A. Ponchielli - Voce di donna "La Gioconda"
Lim Chungman - tenor
W. A. Mozart - Per pietà, non ricercate KV420
G. F. Haendel - Every valley shall be exalted from Messiah oratorio
Song Eun Min - piano
L.van Beethoven - Sonata No. 2 in A Major, Op. 2 No. 2, 4th mov.
Han Naeun - piano
J. Brahms - Variations on a Theme of Paganini Op. 35 
Ko Yoojin - piano
F. Chopin - Etude Op. 25 No. 5  
Kim Do Kyeong - piano
E. Grieg - Piano Sonata in E minor op. 7, 1st mov.
Kim Hee Yeol - piano
F. Schubert - Impromptus nr 3 Op. 90 D.899
Bae So Young - piano
F. Chopin - Polonaise No. 6 Op. 53 'Héroïque'
Yang Jae Yeong - piano
B. Bartok - Romanian Folk Dances Sz. 56 no.1,4,6 
Ahn Jungmin - piano
F. Chopin - Nocturne No. 13 in C minor Op. 48 No. 1
Yoon Yejin - piano
F. Chopin - Sonata No. 3 in B minor, Op. 58, 1st mov.
Kim Geon Woo - piano
L. van Beethoven - Piano Sonata No. 21 in C-major Op. 53 Waldstein 1st mov.
Choi Seyeon - piano
F. Chopin - Scherzo No. 2 in B-flat minor Op. 31
Kim Ye Bin - piano
L. van Beethoven – Piano Sonata No. 31 in A-flat major, Op.110, 1st mov. 
Ahn Tae Jun - piano
F. Chopin - Ballade No. 4 in F minor Op. 52
Kim Seo Yeon - violin
C. Beriot - Violin Concerto No. 9 in A-minor Op. 104, 1st mov.
Oh Ryeong Kyeong - piano
F. Liszt / N. Paganini - Paganini etude No. 6
Shin Ji Hye - piano
F. Mendelssohn - Song Without Words in F-Major Op. 85 No. 1 
Kim Jongdoo - baritone
L. Ronald - A cycle of life, No. 1 Prelude
Gabriela Ułanowska - introduction
Asian people simply love Fryderyk Chopin (1810-1849), therefore the program of this evening could not miss his compositions, among others  Etude in E minor, Op. 25 No. 5 Polonaise in A flat major Op. 53 No. 6 "Heroic", Scherzo in B flat minor, Op. 31 No. 2 and Ballade in F minor, Op. 52 No. 4. Chopin was constantly balancing on the border of major and minor tonality, a sheer piano poet. However, who would guess how the music of the composers of the musical Romantic era would sound like if it were not for the figure of Ludwig van Beethoven (1770-1827), who fundamentally reevaluated thinking about musical art perceived in terms of absolute art (devoid of extra-musical meanings), adding to it meanings with an ethical dimension. Beethoven changed the perception of every musical genre that came within his reach. He also changed the meaning of the piano sonata, which for him also became "an arena for fighting his own weaknesses" (especially the late sonatas of the master from Bonn).  
Piano Sonata in F minor, Op. 57 "Appassionata" was recognized as a revolutionary work.  Charles Rosen, an expert in classical style, wrote once that Beethoven "finally reached (in this work) the concept of a sonata in which all three movements were formulated as one". The changes that are crowned in "Appasionat" earlier focusing in the sonata, that also constitute a representation of the middle period of the author of Fidelio, namely in the Piano Sonata in C major, Op. 53 No. 21, namely "Waldstein". Written with an already romantic momentum, it shows us the heroic Beethoven, who transforms the face of the sonata allegro and changes the sound of the piano, the volume of which would not be ashamed of the entire orchestra.
Nicolo Paganini (1782-1840) was a violinist - virtuoso, but also a guitarist... From his early childhood he gave concerts in Europe, quickly becoming a child prodigy. His talent did not disappear with age - quite on the contrary! Enriched with a balancing technique, it gave stunning results. Breakneck interval jumps, pizzicato performed with his left hand alternating with the bow play, playing right next to the stand - these are only some technical measures, known earlier but brought to the championship by Paganini.  No wonder then that this violinist with a diabolical appearance and disposition was accused of having dealings with the prince of darkness. His virtuosity was an inspiration for many composers of the Romantic era, including Johannes Brahms (Variations on a Theme by Paganini, Op. 35) and Franz Liszt (Etude in A minor No. 6 after Paganine).
The program also includes other works of musical romanticism, including: Impromptus Ges-dur op. 90 No. 3 by Franz Schubert, Piano Sonata in E minor, Op. 7 by Edward Grieg.  
Aneta Derkowska