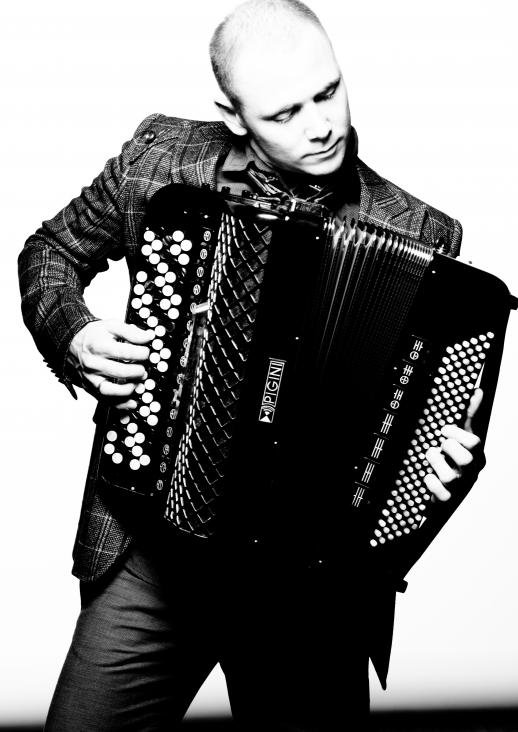 Piazzolla by a Symphonic Orchestra | Marcin Wyrostek
Concert
Conductor – Resident
Location
Concert Hall of CKK Jordanki
CONCERT POSTPONED!
---
Artists:
Marcin Wyrostek - accordion
Toruń Symphony Orchestra
Adam Banaszak – conductor
Agata Zając – conductor-resident
Programme:
A. Piazzolla - Cztery Pory Roku
A. Piazzolla - Oblivion
A. Piazzolla - Libertango
A. Vivaldi - Cztery pory roku - Wiosna (Agata Zając - dyrygent)
W. Siemionow - Bulgarian Suite
M. Wyrostek - Mazurcyjek
M. Wyrostek - Palinka
M. Wyrostek - Moldav
Marcin Wyrostek graduated from the Academy of Music in Katowice in the accordion class of prof. Joachim Pichura, currently a lecturer at his Alma Mater's Jazz Institute. He is a member of the American Accordion Society, as well as the founder and leader of such projects as: Tango Corazon, Coloriage, Music and Dance Show. He is the producer and publisher of his own albums, producer of tours and gala concerts (e.g. National Philharmonic, Polish National Radio Symphony Orchestra). He has worked with many distinguished conductors (e.g. Jose Maria Florencio, Jerzy Maksymiuk, Marek Moś, Adam Sztaba ...), instrumentalists and soloists (including Kayah, Dorota Miśkiewicz, Bobby McFerrin, Nippy Noya, Maryla Rodowicz, Irena Santor, Joanna Słowińska, Stanisław Soyka), Polish philharmonic orchestras and chamber orchestras (Elbląg Chamber Orchestra, AUKSO - Tychy Chamber Orchestra, Sinfonietta Cracovia, Sinfonia Varsovia).
Adam Banaszak is one of the most active conductors of the young generation. He specializes in opera, operetta, vocal-instrumental music and conducting ballet performances. He works for Wrocław Opera, but has also conducted performances at Kraków Opera, the Silesian Opera in Bytom and the Podlaska Opera and Orchestra in Białystok. He has conducted such performances as: Eugene Onegin by P. Tchaikovsky, Faust by Ch. Gounod, G. Puccini's Madame Butterfly, Mascagni's Cavalleria rusticana, R. Leoncavallo's Pagliacci, Halka by Moniuszko, La Traviata by G. Verdi, Carmen by G. Bizet, Candide by L. Bernstein, Die Fledermaus by J. Strauss, The Gipsy Princess by I. Kalman. He conducted premiere performances of operas by Paweł Mykietyn (The Magic Mountain) and Zygmunt Krauze (Yemaya – Queen of the Seas). He has performed at festivals: Warsaw Autumn and Sacrum Profanum. He has conducted philharmonic repertoire concerts in: Bydgoszcz, Częstochowa, Jelenia Góra, Kalisz, Koszalin, Łódź, Opole, Płock, Poznań, Szczecin, Wałbrzych, Zamość. He has conducted the Sinfonia Iuventus Orchestra and recorded with the Polish Radio Orchestra and Beethoven Academy Orchestra. His performances and concerts have been broadcast by radio and television (TVP Kultura, TVP Polonia, Polish Television Channel 2, Polish Radio Channel 2, Rundfunk Berlin Brandenburg and many others). He holds a doctorate in conducting and is a lecturer at the Vocal Department of the Academy of Music in Wrocław. Since the season of 2020/2021 he has been the first guest conductor of Toruń Symphony Orchestra.
---
The event will take place as part of the "Conductor-resident" project.
---
Agata Zając started her musical path at the age of 7 as a violinist. In 2015 she began conducting studies with Marcin Sompolinski at Poznan Academy of Music and obtained a Bachelor's diploma in 2018. She currently pursues a Master's degree at the same university. Her professional career started in 2018 – she was involved in three premieres in Warsaw Chamber Opera as an assistant conductor. Since September 2018 she has been assisting to Greek conductor Michalis Economou, in his international projects. The last one was China New Year's concert tour with Athens Philharmonia Orchestra in December 2019. During the last two years she took part in conducting competitions and auditions – among others, in Warsaw Philharmonic and Polish National Radio Symphony Orchestra in Katowice. She has also been a student of Peter Eötvös, Gregory Vajda, Marin Alsop, Michalis Economou and Charles Olivieri-Munroe as an active participant at international masterclasses. Since the beginning of her conducting path she had the opportunity to conduct multiple orchestras like Malta Philharmonic Orchestra, Greek Radio Symphony Orchestra, Karlovy Vary Symphony Orchestra and Schumann Youth Orchestra.