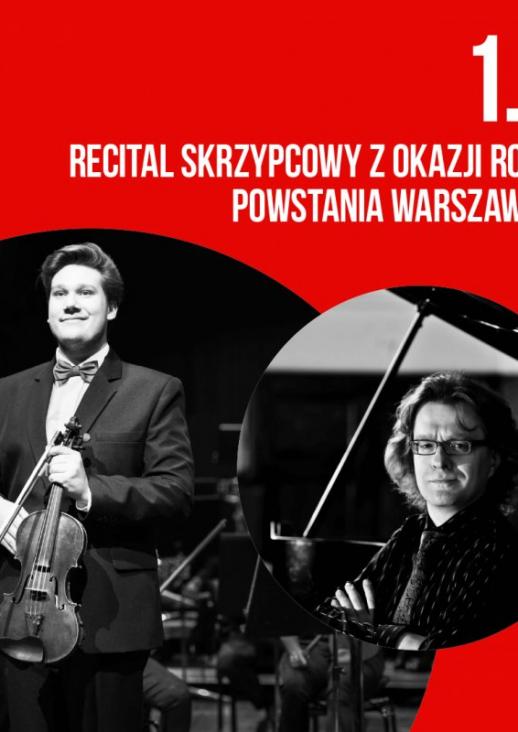 Violin recital to commemorate the anniversary of the Warsaw Uprising
Concert
Nova Music and Architecture
Location
Chamber Hall of CKK Jordanki
The concert takes place as part of the 24th International Festival "Nova Muzyka and Architecture" - Toruń / Kuyavian-Pomeranian 2020.
The concert is audience award from 5th International Karol Lipiński Festival and Violin Competition.
Artists:
Programme:
K. Szymanowski – Mity – Źródło Aretuzy
S. Prokofiev – Sonata skrzypcowa nr 1 f-moll op.80
H. Wieniawski – Polonez D-dur op.4
C. Franck – Sonata skrzypcowa A-dur
Eugène Ysaÿe was one of the greatest violin virtuosos of all time. Critics and conductors adored him for his sound, which sparkled with an unprecedented variety of colour shades. The talent of the Belgian violinist was also appreciated by César Franck, who dedicated his Violin Sonata in A major to him. The composition was a wedding gift for Ysaÿe and it was played for the first time during... his wedding reception. The bridegroom saw the score on the same day, and in the afternoon performed the Sonata accompanied by the pianist Léontine Bordes-Pène who was invited to the wedding.
Karol Szymanowski's Myths is a cycle of works written in 1915 with the participation of the outstanding violinist Pawe? Kocha?ski. One of the parts of this triptych is The Fountain of Arethusa. Fascinated by the Mediterranean culture, Szymanowski was seduced by the history of a nymph who was turned into a stream by Artemis while escaping intrusive advances by Alphaeus. This truly impressionistic picture begins with one of the most beautiful phrases in Szymanowski's music which appears in the violin part. It resonates against the background of the flickering sounds of the piano which illustrate the humming of a rippled sheet of water.
Polonusie in D major Op. 4 is the first of two polonaises written by Henryk Wieniawski. It was composed with Karol Lipi?ski in mind, and later dedicated to him. The composition has two versions: for violin with piano accompaniment and for violin with orchestra. It is permeated by virtuosity (harmonics, double stops, broken triads, ornaments) and a lyrical cantilena.
Violin Sonata No. 1 in F minor Op. 80 is one of Sergei Prokofiev's greatest achievements and one of the greatest masterpieces of 20th century chamber music. The interplay of both instruments is taken here to the unprecedented heights of expression and sonority. The richness of contrasting articulation in the violin part goes hand in hand with the variety of colours in the piano part. This is how David Oistrakh remembered the birth of this work: "I remember the summer day of 1946. Sergey Sergeyevich called me and invited me to Nikolina Gora to listen to his new Sonata for violin and piano which he had just finished (...). I was under enormous impression: I realised that I had witnessed something great and important. Indeed, no work as beautiful and profound as this - one can say without any exaggeration - has appeared in world violin literature for many decades. Miaskowski, who was also present, gave a rather laconic opinion on the Sonata: 'Brilliant!', and then he said several times: "Are you aware of what you have written?".
Aneta Derkowska, PhD
---
Robert Łaguniak was born in 1997 and began playing the violin at the age of 5. He worked with many renowned teachers considered to be among the best in Europe such as Wolfgang Marshner, Zakhar Bron, Karina Gidaszewska, Bartosz Bryla, Robert Shreder, Krzysztof Smietana. He has been a laureate of top prizes at 50 Polish and international violin competitions and has been awarded a number of musical scholarships. His performances have been broadcast live on Polish national television and radio, but his biggest achievement to date has been a semi-final at the Wieniawski International Violin Competition in Poznan in 2016, where he also was a laureate of a special prize by Maxim Vengerov. He was the youngest Polish participant at this prestigious competition. He plays recitals in Poland, Italy, Germany and the Netherlands. He has performed with many Polish orchestras. Lately he has played a recital in the biggest and the best concert hall in Poland - NOSPR National Radio Polish Symphonic Orchestra. Currently he is a student at Music Academy in Lodz in the class of Karina Gidaszewska. He is also studying chamber music at the Accademia Pianistica Internazionale Incontri Col Maestro in Imola in the class of Nazzareno Carusi. Robert Łaguniak plays a violin built by Janos Spiegel in Budapest in 1911.
---
There is no intermission.
The event will take place in accordance with current recommendations and guidelines.
Please read the rules and comply with the GUIDELINES FOR THE CONCERT PARTICIPANTS.
IN CONNECTION WITH THE ONGOING COVID-19 PANDEMIA and completing the statement to be given to 
you by staff on the day of the concert.