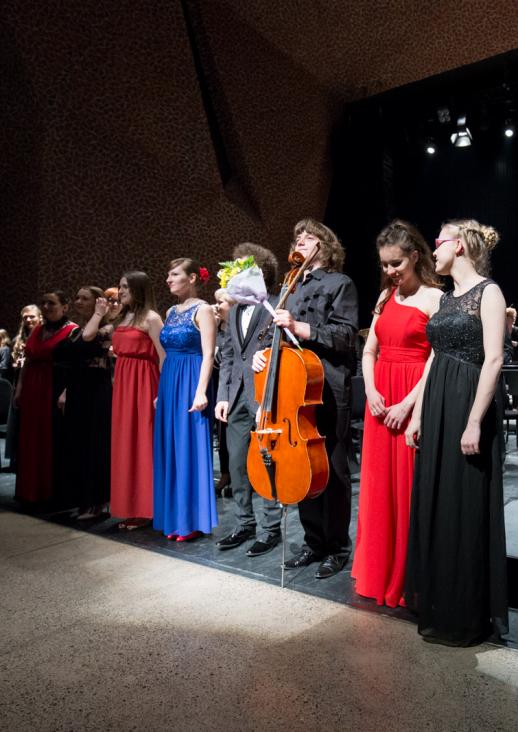 Young artists' evening | Beethoven master vs students
Concert
Conductor – Resident
Viva Beethoven!
Location
Concert Hall of the ZSM in Toruń
ATTENTION! THE DATE OF A CONCERT HAS BEEN CHANGED
Announcement on canceled/postponed events:
http://www.tos.art.pl/pl/kat_3,10,242_KOMUNIKAT.html
Due to the current epidemiological situation, we kindly inform you that the concert will be moved to October 25, 2020 (Sunday) at 5pm.
We apologize again for the inconveniences and invite you to the concert!
---
The event will take place as part of the Viva Beethoven! - the 250th anniversary of the composer's birth project.
Artists:
Soloists - the best students of ZSM
Members of the ZSM Orchestra
Toruń Symphony Orchestra
Dainius Pavilionis (Lithuania) - conductor
Wojciech Pławner - assistant conductor
Programme:
Solo concerts with the accompaniment of TOS
---
The concert co-organised and co-financed under the Institute of Music and Dance 'Conductor – resident' programme.
---
Wojciech Pławner is a violinist and conductor. He graduated from the Academy of Music in Łódź in the violin class of Professor Iwona Wojciechowska. He also studied at the Universität Mozarteum in Salzburg (Austria) and at the Universität für Musik und Darstellende Kunst in Vienna. In 2016 he graduated from the Department of symphonic & choral conducting of the Fryderyk Chopin University of Music in the class of Professor Marek Pijarowski and in 2018 he completed a choral conducting course in the class of Professor Bogdan Gola, becoming his assistant in the Department of Choral Conducting, Music Education, Church Music, Rhythmics and Dance in October 2018. He is a laureate of many domestic and international violin competitions. Major achievements include 6th place in the 13th Henryk Wieniawski International Violin Competition in Poznań, 1st place in the Stefanie Holl-Violinwettbewerb Competition in Vienna, Grand Prix and the Apollo's Chariot award in Olsztyn and 2nd prize in the Louis Spohr International Competition in Weimar (Germany). He has been awarded multiple grants by the Minister of Culture and National Heritage and is a laureate of the Young Poland scholarship programme. As a violinist, Wojciech Pławner had the opportunity to perform in several countries in Europe, as well as in Japan. He refined his skills in conducting courses led by such masters as Jacek Kaspszyk, Robert J. Delekta, Jonathan Brett and Maciej Żółtowski. He received honourable mentions in the 1st A. Kopyciński National Conducting Students' Competition in Wrocław and in the 6th Witold Lutosławski National Young Conductors' Competition in Białystok. He has appeared with philharmonic orchestras in Łódź, Katowice, Kielce and Zielona Góra, and with the Chamber Orchestra of the Academy of Music in Łódź. Pławner works together with the "Sinfonietta" Youth Orchestra of the Łódź Region. He was recently appointed as conductor-in-residence of the Toruń Symphony Orchestra for the 2019/2020 season under the Conductor-in-residence programme organised by the Institute of Music and Dance. In 2017 he became a teacher and conductor of the Symphony Orchestra of the Karol Szymanowski State Music School Complex No. 4 in Warsaw.