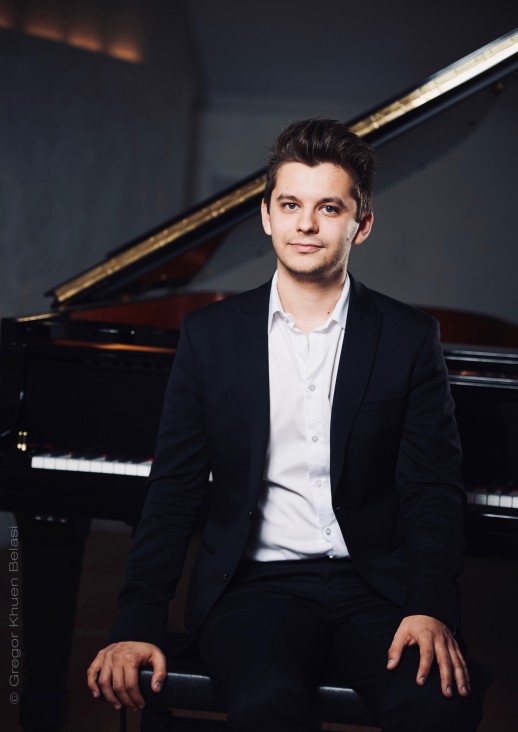 Cannons Hidden in Flowers | Chopin on the anniversary of the Warsaw Uprising
Concert
Nova Music and Architecture
Recital
Location
Chamber Hall of CKK Jordanki
The concert will be held under 25th International Festival "Nova Music and Architecture" - Toruń, Kuyavian-Pomeranian 2021
Artist:
Kamil Pacholec – piano
Aneta Derkowska – introduction
Programme:
Fryderyk Chopin: 
- Nokturn Des-dur nr 2 op. 27
- Barkarola Fis-dur op. 60
- Impromptu Fis-dur op. 36
- Polonez fis-moll op. 44
- Rondo Es-dur op. 16
- Mazurki op. 30
- Sonata h-moll op. 58
Much has been said about Frédéric Chopin (1810-1849), as well as about his music. In retrospect, the words of other Polish composers about our 'musical bard' still seem important. Our native composers write and speak about Chopin, referring to various emotions. His music is still alive – it still delights and moves them.
Zygmunt Krauze (b. 1938) remained under great influence of Chopin's works during his school years. For Włodzimierz Kotoński (b. 1925, d. 2014) it was a 'revelation', Zbigniew Bujarski (b. 1933, d. 2018) said it had always 'delighted and amazed' him. For Zbigniew Penherski (b. 1935, d. 2019) it 'bears the mark of divine perfection'. Tadeusz Wielecki (b. 1954) "was captivated by the power of its expression". Krzysztof Knittel (b. 1947) confessed that Chopin's music moved him and made his eyes 'wet' when he listened to it far from his homeland. Zbigniew Bargielski (b. 1937), the art of the great master 'sometimes forces one to stay silent'. Wojciech Kilar (1932-2013) confirmed the conviction that 'Chopin is saturated with Poland', which has persisted since the times of Schumann and Norwid, and Krzysztof Baculewski (b. 1950) added: "These works are so intrinsically linked to Polishness that they remain in us (...) so deeply that they become part of us, part of our awareness". Stefan Kisielewski (b. 1911, d. 1991) summed up: "Chopin is like this magical object which has a different reflection in every mirror", while Witold Lutosławski (b. 1913, d. 1994) admitted: "I cannot imagine being able to live without his music, it is like air, like water, whose absence makes it possible to live".
And also the words of Roman Berger (b. 1930, d. 2020) which make us stop and think in view of the next anniversary of the Warsaw Uprising. "Chopin was a political composer (...) He did not compose one Revolutionary Etude on commission – he composed 24 Revolutionary Etudes. And 24 Revolutionary Preludes. And 4 Revolutionary Ballades and 4 Revolutionary Scherzos (...). Chopin, perceived as a dissident, (...) would today stand (...) in opposition to the megatrend of the transformation of man, a homo creativus, into a consumer of art".
dr Aneta Derkowska, PhD
---
There is no intermission in the concert.
The event will take place in accordance with current recommendations and guidelines.
Please read the rules and comply with the GUIDELINES FOR THE CONCERT PARTICIPANTS.
IN CONNECTION WITH THE ONGOING COVID-19 PANDEMIA and completing the statement to be given to 
you by staff on the day of the concert.