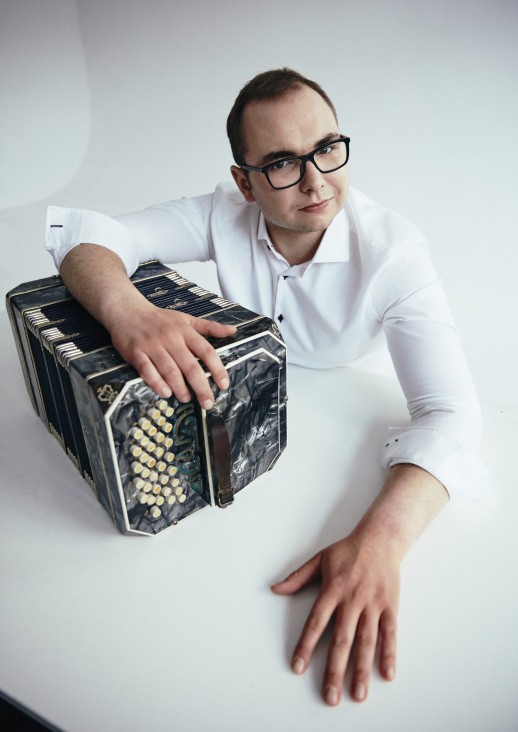 Oscar Evening
Concert
Nova Music and Architecture
Location
Chamber Hall of CKK Jordanki
The concert will be held under 25th International Festival "Nova Music and Architecture" - Toruń, Kuyavian-Pomeranian 2021
Artists:
Face 2 Face:
Paweł Janas - accordion/melodica
Bartosz Kołsut - accordion/bandoneon
Programme:
A. Vivaldi - Winter from The Four Seasons
Medley muzyki filmowej - Jurassic Park, Matrix, Batman, Star Wars
E. Morricone - Cinema Paradiso
J. Williams - Harry Potter
Sting - Englishman in New York
A. Piazzolla - Libertango
S. Wonder - Isn't she lovely
J.S. Bach/ACDC – Thunderstruck
Antonio Vivaldi (1678-1741) was a master of programme illustration. He was able to reflect everything in music: natural phenomena, moods, emotions, which can all be found in the cycle of his famous concerts The Four Seasons. Programme-like character of musical works stopped being popular in the classical epoch, but, free from literality, it returned in the Romanticism. In XX century illustrative music gained another face – it became a complementation of film image. Who hasn't heard the famous hits from such Oscar-winning masterpieces as Steven Spielberg's Jurassic Park and George Lucas's Star Wars with music by John Williams (b. 1932), the Matrix by the Wachowski brothers with music by Don Davis or Tim Burton's Batman with a soundtrack by Danny Elfman and Prince? We know them very well, as they began to lead an independent life, outside the films they had been written for.
Williams is also the composer for the Harry Potter films based on the books by J.K. Rowling. The soundtrack for Harry Potter and the Philosopher's Stone received the Golden Record status in Poland. The Oscar was also awarded to the film Cinema Paradiso by Giuseppe Tornatore with music by the late Ennio Morricone (1928-2020).
The Oscar evening will also feature song masterpieces. Sting (b. 1951) no longer has to prove anything. That is why for years he has only been involved in what interests him in music. And what interests him is the encounter, for which music provides the ideal space. A little miracle – the song Englishman in New York comes from Sting's second studio album Nothing Like the Sun. It featured Branford Marsalis on the soprano saxophone, Manu Katché on drums and Mino Cinélu on percussion. What an ensemble! Stevie Wonder (born. 1950) wrote Isn't She Lovely in 1976 to welcome his daughter Aisha into the world. Inspired by the music of Johann Sebastian Bach, Thunderstruck is a single by Australian rock band AC/DC from their album The Razor's Edge. This time the music became inspiration for a film. In 2004, a film that told the story of five AC/DC fans was made. Astor Piazzolla's (1921-1992) Libertango, performed by Grace Jones, was featured in Roman Polański's film Frantic, with jazz-rock music by... Ennio Morricone. Let the Oscar evening begin!
Aneta Derkowska, PhD
---
There is no intermission in the concert.
The event will take place in accordance with current recommendations and guidelines.
Please read the rules and comply with the GUIDELINES FOR THE CONCERT PARTICIPANTS.
IN CONNECTION WITH THE ONGOING COVID-19 PANDEMIA and completing the statement to be given to 
you by staff on the day of the concert.