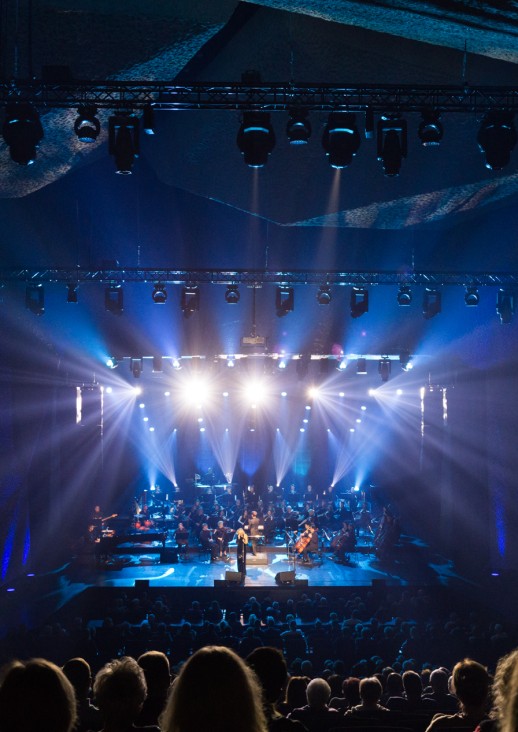 Polish Hits Night
Concert
Nova Music and Architecture
Location
Concert Hall CKK Jordanki
Kujawy + Pomorze – promotion of the economic potential of the region – 2nd
ZAUCHA / WODECKI / PERFECT / KOMBI / ŁOBASZEWSKA / CIECHOWSKI
Artists:
Jacek Kotlarski - vocal, introduction
Patrycja Kotlarska - vocal
Piotr Wrombel - piano,
Zbigniew Wrombel - contrabas, bas
Sebastian Frankiewicz - drums
Toruń Symphony Orchestra
Joanna Natalia Ślusarczyk - conductor
Programme:
Z. Wodecki - Izolda
Z. Wodecki - Walc Embarras
Z. Wodecki - Panny mego Dziadka
Perfect - Niepokonani
Perfect - Nie mogę Ci wiele dać
A. Zaucha - Bądź moim natchnieniem
A. Zaucha - W złotych kroplach deszczu
A. Zaucha - Myśmy sobie pisani
B. Mec - Jej portret
K. Prońko - Jesteś lekiem na całe zło
Kombii - Słodkiego miłego życia
G. Łobaszewska - Nad rzeką marzeń
G. Łobaszewska - Czas nas uczy pogody
G. Ciechowski - Nie pytaj o Polskę
Although they will never disappear from the landscape of Polish song, they are badly missed in real life. Zbigniew Wodecki (1950-2017) was one of the most popular artists in the Polish music industry. An excellent storyteller, smart and witty conversationalist who loved his work. 
The queen of Polish song ‒ Irena Santor ‒ said: 'He was able to create real intimacy between him and the audience, as if he were casually seeing all of them at his home. It takes great skill to conquer the audience. He could do it and did it tactfully.' The programme includes the unforgettable hits previously performed by the prince of Polish song: Izolda, Walc Embarras (Embarras Waltz), Panny mego Dziadka (My Grandfather's Ladies).
Andrzej Zaucha (1949-1991) ‒ singer, actor, and jazz musician from Kraków. His fellow countryman ‒ Zbigniew Wodecki ‒ used to say that Andrzej was a man of 'incredible musical intelligence' and that he was 'born into swing'. We will be reminded what a real song sounds like when listening to the old Zaucha's hits: Bądź moim natchnieniem (Be My Inspiration), W złotych kroplach deszczu (In the Golden Rain), Myśmy sobie pisani (We Are Meant For Each Other).
The leader of two bands: Republika and Obywatel G.C. – Grzegorz Ciechowski – is the veteran of Polish rock. Nie pytaj o Polskę (Don't Ask About Poland) is an ageless and atemporal erotica for the homeland, and we need to admit that love for Poland isn't easy, as Poland was and sometimes is being drunk, sad, dirty, and tired. But this love is true, uninterested, and unconditional. The song comes from the album titled Tak! Tak!, released at the end of the Polish People's Republic, in 1988. 
Other artists also sang about different facets of love: Perfect (Niepokonani / The Invincible, Niewiele ci mogę dać / I Can't Give You Much), Bogusław Mec (Jej portret / Her Portrait), Krystyna Prońko (Jesteś lekiem na całe zło / You're the Medicine for All The Wrong).
Grażyna Łobaczewska, freely balancing between different styles: from pop, through soul, funk, jazz, to rock, is an extremely versatile artist. There's a reason for calling her our Polish Aretha Franklin. Her repertoire includes the genius miniatures, such as: Nad rzeką marzeń (By the River of Dreams), Czas nas uczy pogody (Time Teaches Us Weather).
All we can do now is wish you Słodkiego, miłego życia (Sweet and Lovely Life by Kombi) with the song. 
Aneta Derkowska