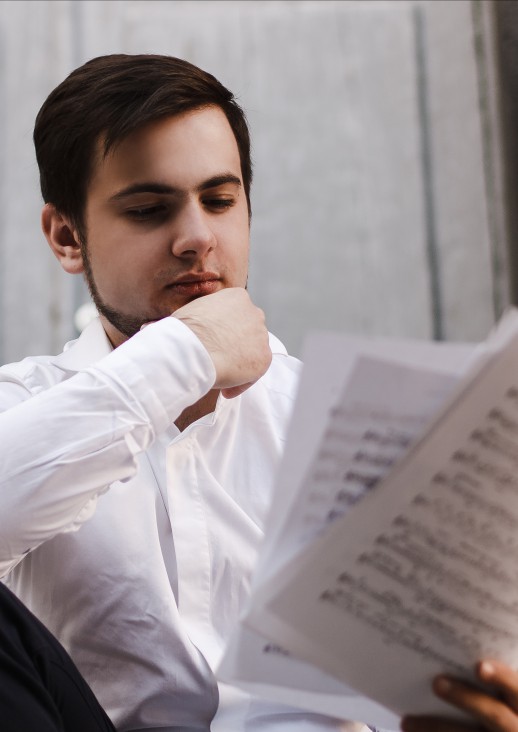 Viva Mozart! #1
Concert
Conductor – Resident
Broadcast online
Artists:
Andrii Dorofeiev (Ukraine) – piano
Toruń Symphony Orchestra
Dainius Pavilionis (Lithuania) – conductor
Agata Zając – conductor-resident
Programme:
W. A. Mozart - Overture from The Magic Flute KV 620
W. A. Mozart - Piano concerto No. 21 in C major KV 467
---
We invite you to an online concert,
which will be broadcast on January 29 at 7pm on our Youtube channel.
The concert will be available on our channel until February 12, 2021.
---
The concert will be part of the "Conductor-resident" project.
---
Agata Zając started her musical path at the age of 7 as a violinist. In 2015 she began conducting studies with Marcin Sompolinski at Poznan Academy of Music and obtained a Bachelor's diploma in 2018. She currently pursues a Master's degree at the same university. Her professional career started in 2018 – she was involved in three premieres in Warsaw Chamber Opera as an assistant conductor. Since September 2018 she has been assisting to Greek conductor Michalis Economou, in his international projects. The last one was China New Year's concert tour with Athens Philharmonia Orchestra in December 2019. During the last two years she took part in conducting competitions and auditions – among others, in Warsaw Philharmonic and Polish National Radio Symphony Orchestra in Katowice. She has also been a student of Peter Eötvös, Gregory Vajda, Marin Alsop, Michalis Economou and Charles Olivieri-Munroe as an active participant at international masterclasses. Since the beginning of her conducting path she had the opportunity to conduct multiple orchestras like Malta Philharmonic Orchestra, Greek Radio Symphony Orchestra, Karlovy Vary Symphony Orchestra and Schumann Youth Orchestra.