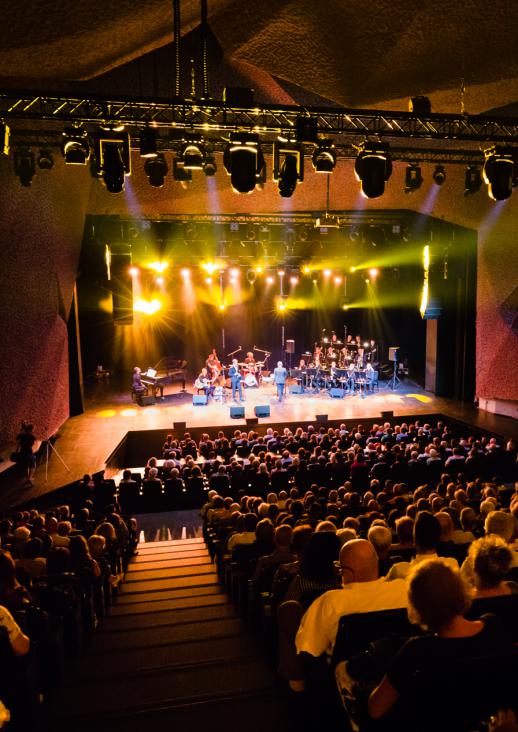 You Were the Heart's Beat
Concert
Nova Music and Architecture
Location
Concert Hall CKK Jordanki
The concert will be held under 25th International Festival "Nova Music and Architecture" - Toruń, Kuyavian-Pomeranian 2021
Artists
Jacek Kotlarski - vocal
Piotr Wrombel - piano, arrangements
Zbigniew Wrombel - contrabass
Marcin Jahr - drums
Toruń Symphony Orchestra
Jacek Rogala - conductor
Charismatic, individual, impenetrable – such was Czesław Niemen (1939-2004). But in music, he would expose himself. He combined his inherent eastern singing style with elements of modern rock with ease. He loved musical experiments and was not afraid of them. Jazzmen used to compose music for him, and he sang the poetry of Herbert, Pawlikowska-Jasnorzewska, poems by Kofta and Młynarski. He would blend various musical genres, and later whole generations.
An underrated genius – Andrzej Zaucha (1949-1991). In the biography of the artist Andrzej Baran writes: "Rhythm and blues was his beloved musical genre. It derives from a combination of jazz, blues and gospel – and these are the heart and soul of modern popular music. Being an excellent performer of songs in this genre, Zaucha sang in a jazz-rock band Dżamble, the poetic Anawa, perform pop hits we remember from Opole Festival, the trio Sami, which he created with Andrzej Sikorowski and Krzysztof Piasecki".
He loved the blues the most and was able to combine it with various rock trends. Tadeusz Nalepa (1943-2007) was one of the most influential artists on the Polish music scene. He established the band Breakout, and later played with musicians who were active in the most popular bands of the 1980s: Manaam, Lady Pank, Oddział Zamknięty, TSA. He changed the face of Polish blues-rock, which later also absorbed elements of jazz, ethnic music and funk.
The Polish Beatles – Czerwone Gitary – if it hadn't been for them we wouldn't be humming such hits as: Takie ładne oczy, Matura, Kwiaty we włosach, Dozwolone od lat 18-stu, Nie zadzieraj nosa.
Aneta Derkowska, PhD
* koncert nagłaśniany
---
There is no intermission in the concert.
The event will take place in accordance with current recommendations and guidelines.
Please read the rules and comply with the GUIDELINES FOR THE CONCERT PARTICIPANTS.
IN CONNECTION WITH THE ONGOING COVID-19 PANDEMIA and completing the statement to be given to 
you by staff on the day of the concert.