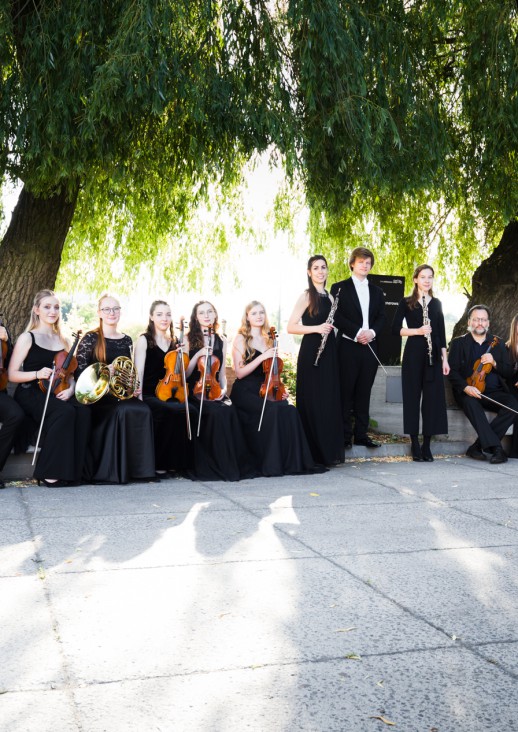 The Orchestra of the Chevalier de Saint-George
Concert
Nova Music and Architecture
Localization
The Old Market Square
The concert will be held under 25th International Festival "Nova Music and Architecture" - Toruń, Kuyavian-Pomeranian 2021
Artists:
Kaja Rudnicka - violin
The Orchestra of the Chevalier de Saint-George
Radosław Droń - conductor
Przemysław Draheim - introduction
Programme:
W.A. Mozart - Symphony in G major No. 15 KV 124
J. Boulogne de Saint Georges - Suite from the opera L'amant anonyme
F. Mendelssohn-Bartholdy - Symphony No. 2 in D major
A. Vivaldi - Summer  from The Four Seasons
G. Holst - St. Paul's Suite
Joseph Bologne de Saint-Georges was born around 1739 in the Caribbean island of Guadeloupe and died in 1799. His mother was a slave and his father a wealthy planter who brought his son to Paris and gave him comprehensive education. Joseph soon became a composer, violin virtuoso, and a conductor, as well as a fencer and Parisian celebrity. His only surviving opera, L'Amant Anonym (c. 1780), was written to a libretto by Desfontaines (François-Georges Fouques Deshayes) based on a play by Stéphanie Félicité de Genlis. The plot of the opera is as old as the world itself and refers to a love triangle.
The British composer – Gustav Holst (1874-1934) for 29 years taught at St. Paul's Girls' School, which was not a music school, but its authorities focused on the comprehensive development of their pupils. Various orchestras performed there, including a symphonic orchestra, strings, winds, and percussion ensembles, all of which could play at an astonishingly high level. This gave Holst the freedom to spread the wings of his musical imagination and to write compositions appreciated by professional musicians. These works certainly include St. Paul's Suite, which was an expression of the composer's fascination with folklore, as evidenced by two Old English melodies: Dargason and Greensleeves, which were used in the piece.
The Four Seasons (1725) by Antonio Vivaldi (1678-1741) belongs to the canon of musical literature. Who hasn't heard the concertos of the 'red priest' included in the collection entitled: Il cimento dell'armonia e dell'inventione (The contest between harmony and invention), where colourful and lively music hides within the framework of a perfectly organized form. In the first part of Summer (Allegro nan molto), the solo violin part imitates the voice of a cuckoo, a whistling turtledove, and then a goldfinch, followed by the imitations of gusty wind. In Part II (Adagio) – annoying flies (in the violin part) keep the shepherd boy awake, and ominous thunder creeps from afar. In Part III (Presto) – the storm rages in all instruments, and lightning flashes illuminate the dark sky. The storm is relentless.
This treasury of musical variety is complemented by compositions by Wolfgang Amadeus Mozart (1756-1791) – Symphony in G major No. 15 KV 124 (1772) and another 'child prodigy', Felix Mendelssohn-Bartholdy (1809-1847) – Sinfonia No. 2 in D major for string orchestra MWV N 2 (1821). 
Aneta Derkowska, PhD
---
There is no intermission in the concert.
The event will take place in accordance with current recommendations and guidelines.
Please read the rules and comply with the GUIDELINES FOR THE CONCERT PARTICIPANTS.
IN CONNECTION WITH THE ONGOING COVID-19 PANDEMIA and completing the statement to be given to 
you by staff on the day of the concert.