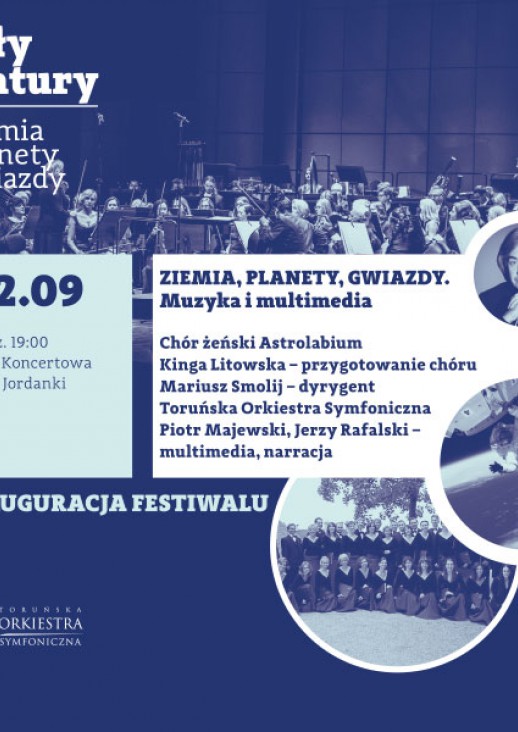 Earth, planets, stars | Music and multimedia
Location
Concert Hall of CKK Jordanki
Concert as part of the "Forces of Nature - Earth, Planets, Stars" Festival
Attention!
The ticket for this concert also entitles you to participate in the opening of the exhibition "Planets - family album", which will take place one hour before the concert, at 6 pm in the Foyer of CKK Jordanki.
Artists:
Astrolabium Women Choir (choir preparation- Kinga Litowska)
Mariusz Smolij - dyrygent
Toruń Symphony Orchestraa
Piotr Majewski, Jerzy Rafalski - multimedia, narration
Programme:
J. Williams - Adventures on Earth - suite form E.T.
M. Cynk - Planetoida Toruń 12999
J. Williams - Suite from Star Wars
G. Holst - Planets (with multimedia presentation)
Subsidised by the National Centre for Culture under the programme Kultura - Interwencje 2017.
Main Patron: Gmina Miasta Toruń
Patron: Nowa Elektrociepłownia Gazowa w Toruniu
Co-organization: Województwo Kujawsko-Pomorskie
Partnets: Planetarium w Toruniu, UMK, Pomorskie Towarzystwo Muzyczne, CKK Jordanki
Honorary Patronage: Ministerstwo Kultury i Dziedzictwa Narodowego, Marszałek Województwa Kujawsko-Pomorskiego - Piotr Całbecki, Prezydent Miasta Torunia - Michał Zaleski
Organizer: Toruńska Orkiestra Symfoniczna, Gmina Miasta Toruń