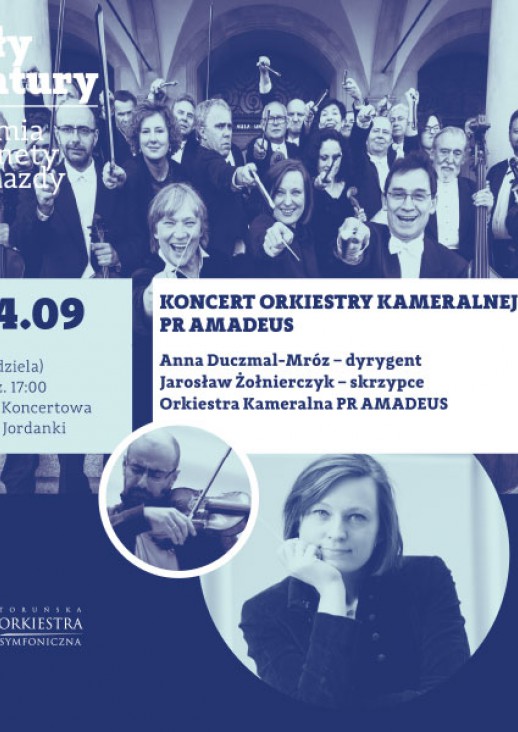 Amadeus - Chamber Orchestra of Polish Radio
Location
Concert Hall of CKK Jordanki
Concert as part of the "Forces of Nature - Earth, Planets, Stars" Festival
Concert to celebrate the 20th anniversary of the inclusion of Toruń on the UNESCO list.
Artists:
Anna Duczmal-Mróz - conductor
Jarosław Żołnierczyk - violin
Amadeus - Chamber Orchestra of Polish Radio
Programme:
Karol Szymanowski – tude in B flat minor Op. 4 No. 3 (arr. A. Duczmal)
Mikołaj Górecki – Concerto-Notturno for violin and string orchestra
Roxanna Panufnik – "Autumn in Albania" from "Four World Seasons"
Ludwig van Beethoven – Moonlight Sonata, Op. 27, No. 2 (arr. J. Kowalewski)
Antonin Dvořák – String Quartet No. 12 in F major, Op. 96 "American" (ar. A. Duczmal)
Amadeus Chamber Orchestra of Polish Radio was founded in Poznań in 1968 by Agnieszka Duczmal. Initially, it existed under the patronage of "Jeunesses Musicales", and later of the Poznań Music Society. The winning of the Herbert von Karajan silver medal at the International Young Orchestra Meeting in West Berlin in 1977 resulted in transforming it into the Polish Radio and Television Orchestra, and later into the Amadeus Chamber Orchestra of Polish Radio conducted by Agnieszka Duczmal.
Until now the Orchestra conducted by Duczmal has recorded for the Polish Radio more than 10000 minutes of music covering repertoire from baroque to contemporary music and performed hundreds of concerts broadcast by the Polish radio. The orchestra has recorded more than a hundred concerts and programmes for the Polish Television and five hours of music for Télévision Française 1. For the Japanese TV NHK the Orchestra recorded a one-hour programme with Polish music. The artistic achievements of the Orchestra include many first performances, such as the first world recording of Goldberg Variations of J.S. Bach transcribed by J. Koeffler for chamber orchestra.
The Orchestra has co-operated with radios abroad, including German NDR, WDR, SFB as well as BBC in London, CBC in Montreal and the Mexican radio for which it recorded mainly Polish music.
The works of the Orchestra include 50 records. The Orchestra gives concerts in most European countries and in the USA, Canada, Mexico, Brazil, Kuwait, Taiwan, and Japan, co-operating with world-class soloists such as Maurice André, Martha Argerich, Patric Gallois, Steven Isserlis, Gary Karr, Kevin Kenner, Mischa Maisky, Jeremy Menuhin, Igor Oistrakh, Michala Petri, Alexandre Rabinovitch, Vadim Repin, Grigory Sokolov, Guy Touvron, Henryk Szeryng and all top Polish soloists.
The most famous concert halls where the Orchestra has performed include Concertgebouw in Amsterdam, Philharmonic concert halls in Berlin, Cologne, Munich and St. Petersburg, Gewandhaus in Leipzig, Musikvereinsaal in Vienna, Pollack Hall in Montreal, Queen Elizabeth Hall in London, La Scala in Milan, Tokyo Opera City Concert Hall. The Orchestra regularly participates in many European music festivals.
Subsidised by the National Centre for Culture under the programme Kultura - Interwencje 2017.
Main Patron: Gmina Miasta Toruń
Patron: Nowa Elektrociepłownia Gazowa w Toruniu
Co-organization: Województwo Kujawsko-Pomorskie
Partnets: Planetarium w Toruniu, UMK, Pomorskie Towarzystwo Muzyczne, CKK Jordanki
Honorary Patronage: Ministerstwo Kultury i Dziedzictwa Narodowego, Marszałek Województwa Kujawsko-Pomorskiego - Piotr Całbecki, Prezydent Miasta Torunia - Michał Zaleski
Organizer: Toruńska Orkiestra Symfoniczna, Gmina Miasta Toruń