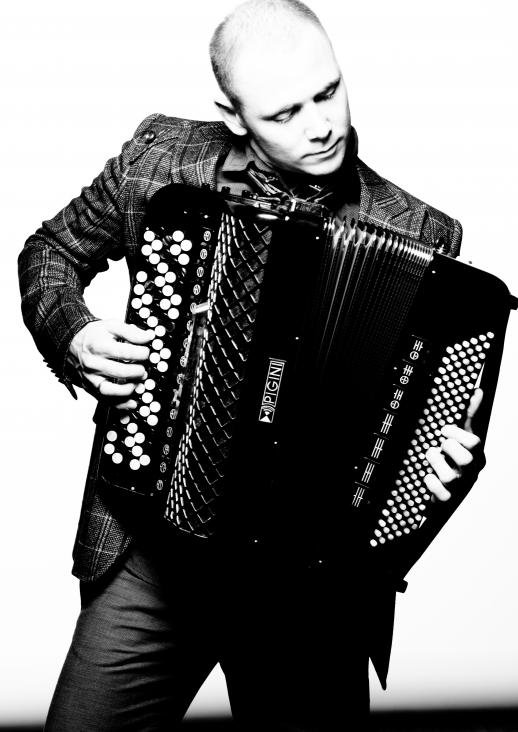 Marcin Wyrostek | Piazzolla by a Symphonic Orchestra
Concert
Conductor – Resident
Nova Music and Architecture
Location
Concert Hall CKK Jordanki
The concert will be held under 25th International Festival "Nova Music and Architecture" - Toruń, Kuyavian-Pomeranian 2021
The concert will be part of the "Conductor-resident" project.
Artists:
Marcin Wyrostek - accordion
Toruń Symphony Orchestra
Adam Banaszak – conductor
Agata Zając – conductor-resident
Przemysław Draheim - introduction
Programme:
A. Piazzolla - The Cuatro Estaciones Porteñas
A. Piazzolla - Oblivion
A. Piazzolla - Libertango
A. Vivaldi - Spring from The Four Seasons  (Agata Zając - conductor)
W. Siemionow - Bulgarian Suite
M. Wyrostek - Mazurcyjek
M. Wyrostek - Palinka
M. Wyrostek – Moldav
Astor Piazzolla (1921-1992) - a Bandoneon virtuoso and master of the tango. His name is now synonymous with the transformed tango, combined with elements of jazz and classical music – tango nuevo, which has made its way to concert halls instead of taverns. The bandoneon, on the other hand, is an instrument that originated in Germany in the 19th century. Who would think today that it was used to play at funerals, because, being a portable instrument, it often replaced the organ. Today tango is based on its characteristic sorrowful sound. The famous Oblivion from the film Henry IV directed by Marco Bellocchio was created in 1982. The piece teems with contrasting elements, such as the rise and fall of nostalgic melody, contrasts of tempo and dynamics. Another hit by Piazzolla is the evergreen Libertango – an anthem of freedom in the author's own opinion. A frenetic pulse pervades The Four Seasons in Buenos Aires. There are many musical jokes here: Spring contains a fugue that sweeps in the rhythm of the tango, and Winter has subtle allusions to Vivaldi's Four Seasons.
The Argentinians had Astor Piazzolla, and we have Marcin Wyrostek, an accordion virtuoso who can draw on various musical styles with a most unusual mastery. His music (both his own works and interpretations of other compositions) is full of frenetic energy and emotional fervour. Virtuosity becomes a means of musical expression – never the goal. During the concert we will hear compositions from the artist's two albums: For Alice (Palinka) and Polacc (Mazurcyjek, Moldav). In both of them Wyrostek draws on rich Slavic folklore. The element of folklore also permeates the Bulgarian Suite by Viacheslav Semoinov (b. 1946), an outstanding Russian virtuoso accordionist and composer.
Aneta Derkowska, PhD
---
There is no intermission in the concert.
The event will take place in accordance with current recommendations and guidelines.
Please read the rules and comply with the GUIDELINES FOR THE CONCERT PARTICIPANTS.
IN CONNECTION WITH THE ONGOING COVID-19 PANDEMIA and completing the statement to be given to 
you by staff on the day of the concert.